<HR style="COLOR: #000000" SIZE=1>
1/It takes 900 horses just to drive the supercharger on this engine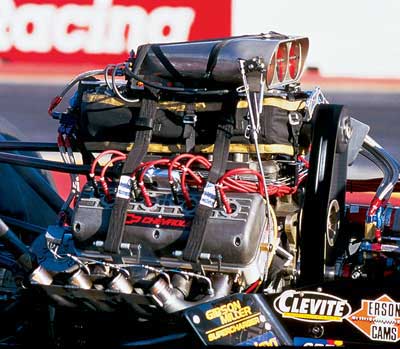 2/A Top Fuel Dragster accelerates from 0-100 MPH in about 0.8 seconds
3/A Top Fuel Dragster leaves the starting line with a g-force rating of 5 g's (5-times the force of gravity), and matching that of the space shuttle lifting off from Cape Canaveral, Florida
4/A Top Fuel Dragster/Funny Car also has a reverse force of 5 g's when both parachutes deploy simultaneously
5/7500 Approximate peak output, in horsepower, of a competitive 2005 Top Fuel engine. That's almost 1000 horsepower per cylinder
6/500Engine capacity, in cubic inches. The block and heads are CNC-milled from solid billets of aluminum, and the oil pan is titanium
7/45.5 Maximum boost, in psi, produced by the supercharger at wide-open throttle. That's more than 3.0 bar, twice the boost achieved by a Mitsubishi Evo VIII
8/12,654
Rpm the supercharger spins at maximum engine speed. With the engine at 8500 rpm, just turning the supercharger soaks up 900 horsepower
9/165 Temperature in Fahrenheit of the 14-71-type supercharger after just 4.5 seconds of maximum boost
10/569 Number of times the engine's crankshaft turns during the entire quarter mile. Each intake valve opens 284 times
11/16 Spark plugs per engine. The twin MSD magnetos produce 88 amps. You need just 12 more to power your MIG welder
12/77 Gallons per minute the fuel system can pump at wide-open throttle. The engine will consume 22.75 gallons of fuel during warmup, burnout, staging, and the quarter-mile run
13/900 Cost, in dollars, of a 55-gallon drum of nitromethane fuel. Current regulations allow a maximum of 85 percent nitromethane in the fuel mix. The rest is alcohol
14/58,700 About what you'll pay, in dollars, for a new, ready-to-run Top Fuel engine
15/29 Minutes it takes to tear down and rebuild a Top Fuel engine between rounds. Each engine is rebuilt 184 times a year (if the driver goes to the final round at every race).
16/28 Quarts of oil used during warm-up and quarter-mile run. The oil pan holds 70-weight oil mixed with special thickener
17/6 The maximum number of clutch discs in a Top Fuel car. The multistage clutch is timed to progressively lock up during the run. Each $115 disc lasts a maximum of three runs.
18/One a typical 1/4-mile pass, the Top Fuel cars consume 4-5 gallons+ of fuel for just the pass. The complete run (burnout, staging, and pass) uses 10-12 gallons of fuel
19/The Top Fuel Dragster accelerates faster than a Formula 1 car, jumbo jet, and even a jet fighter
20/the fuel pump on a Top Fuel car delivers over 65 gallons of fuel per minute. Roughly equal to eight bathroom showers running at the same time
21/Measured fuel line pressures in a Top Fuel Dragster operate between 400-500 psi
22/Aerodynamics become life-threatening important so as to keep these cars under control. The averege wing on a Top Fuel car applies between 4,000 and 8,000 pounds of downforce (depending on angle and size).
23/With all this horsepower and force, parts have to be extermely durable. Especially when takes a mere 15/100th of a secound for 5000+ horsepower to reach the rear wheels. Now THAT'S throttle response
24/Never complain about your street tires wearing out prematurely when the monster meats on a Top Fuel car are only good for roughly 2 miles, or 4-6 passes
25/Exhaust exit angle is also important in that there is so much exhaust velocity (easier to compare as THRUST) that a slight variation in the angle will change the direction of the car. Even to the point that is say the car hits the wall and smashes a bank of exits or turns them downward it can literally throw the car into a roll.
26/2225 Minimum weight, in pounds, of a Top Fuel dragster. That's a power-to-weight ratio of 3.37 horsepower per pound, about 20 times better than the new Z06 Corvette's.
27/300Wheelbase, in inches, of a Top Fuel dragster. About 3000 inches of chrome-moly tubing is needed to build the frame, which is left unpainted because of the need to constantly weld cracks
28/1082 Greenbacks you'll need to buy a pair of new Goodyear R36x17.5 rear slicks. If you're lucky, they'll last you a bit over a mile--four runs
29/58 Bead Lock bolts used to retain each rear tire to the wheel. Tire pressures are set between 6.5 and 7.5 psi.
30/333.08 Top speed, in mph, of the 2004 NHRA Top Fuel Championship-winning U.S. Army dragster. When he pops the parachute at the end of his run, driver Tony Schumacher experiences peak deceleration of 6 g
31/12,000 Downforce, in pounds, generated by the rear wing at 325 mph. The downward thrust made by the exhaust gases escaping the headers alone generates 800 pounds of downforce
32/85 Distance, in inches, you'll need to be above the header pipes to avoid getting toasted by the nitro flames exiting those pipes.
33/8.5 Number of inches the rolling diameter of the rear tires grows during a 325-mph run, reaching a maximum of 44.5 inches.
34/4.441 World-record elapsed time, in seconds, it took Tony Schumacher's Army dragster to cover a quarter mile
35/18 Seconds of racing completed if Tony makes the final. If he makes the final in every race, his total racing time for the season will be less than seven minutes
36/the 500 ci Hemi in a Top Fuel dragster makes more horsepower than the first four rows at the Daytona 500
37/because they both say the fuel mixture is compressed so much in the engine that it is nearly forced into a solid phase before ignition. With the supercharger force-feeding the engine at 3000 CFM, the engine is on the verge of hydraulic lock, i.e., it's own pistons can barely overcome the pressure exerted by the incoming air. That is, until the spark plug ignites.
38/At a stoichiometric ratio of 1.7:1 air-fuel mixture for nitromethane, the flames coming out of the exhaust reach 7000 degrees Farenheit, or 3870 degrees Celsius. Just for a baseline, consider that Ti-6Al-4V, a widely used titanium alloy, melts at just under 1700 degrees C
39/If a cylinder were to fail, any unburned nitro can ignite in the cylinder and crack the cylinder head, or even the engine block.
40/this is my favorite: Imagine yourself driving a $140,000 Lingenfelter Twin Turbo Corvette Z06. Holding a steady 200 mph, you pass a Top Fuel dragster idling at the beginning of a straightaway. Just as you pass, the dragster launches after you. Within 3 seconds, the dragster not only catches you, but beats you to the finish line. He passed you within 1320 feet and probably blew you right the hell off the road
41/that one cylinder of the eight cylinders of a Top Fuel dragster or a Funny Car produces 750 horsepower, equaling the entire horsepower output of a NASCAR engine